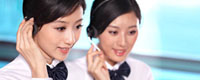 Name: Lily Zhong
Tel: +86-0769-85649369
Fax: +86-0769-81515750
Mobile: 13532656986
E-mail: info@anti-forgeryink.com
Add: NO5,Liyuan Road,Huaide Industiral District ,HumenTown, Dongguan City ,Guangdong Province, China.
Skype: antiforgeryink
MSN: lily-885@hotmail.com
QQ: 1561494825



Product name : short wave fluorescent power

Item : PW-SW01
Details:
security information:
2、chemical structure: complex
3、excitation wave : 253nm
4、melting point: ≥ 185 °C
5、pigment surface color: white power
7, Uses: kindly used in single / double wave of security ink, inkjet ink. Pure pigments fluorescent, fine powder, large specific surface area of ​​the pigment, good wettability, high oil absorption, easy to disperse in the ink connecting material and rolling fine, ink transfer and printability is good.
8. Pigmentation treatment: The performance of this product has been improved due to the increase of the pigmentary post-treatment process at the end of the production process.
9, shipping packaging: vacuum packaging 1 kg / bag, 25 kg / carton